FundRaisingAfrica is the leading crowdfunding website in Ghana (for now…watch out for our announcement of our next African conquest).
We exist because we believe Africans care about Africa and want to put their money where their heart is by supporting home-grown fundraising campaigns. This is why our platform enables both local and international payments — making it possible for campaigns to be supported by friends, family, and people from all over Ghana, Africa, and the world.
Why should you crowdfund with us instead of GoFundMe, Indiegogo, etc.?
We're local! This means local donation options and local support and, if you would like, you can stop by our office in North Ridge to meet with us in person!
Free campaign set up
Free campaign support (we know crowdfunding isn't easy, which is why we're here to guide you every step of the way)
Weekly transfer of funds raised (we'll send you the donations you receive every week, provided you raise over 100 cedis during the week)
Free campaign publicity (just as you share your campaign with potential donors, we will do the same via our weekly e-newsletter and social media pages)
Our Terms of Service
We collect a fee of 5% of  every successful donation received (this way, we don't make money unless you make money)
In the interest of transparency and accountability, we ensure all organizations raising money through us are legitimate and that all individual crowdfunders are raising money for legitimate projects.
We believe in the transformative power of crowdfunding. Crowdfunding can change lives, bring dreams into reality, and unite communities through outpourings of love and support. Ready to change your world and that of others? Visit our 'How It Works' webpage to get started!
Not interested in crowdfunding your own campaign just yet, but eager to help others? Consider joining hundreds of people in Ghana, USA, the UK, South Africa, and the Netherlands, in donating to a FundRaisingAfrica campaign. You can donate using:
Visa/MasterCard
MTN Mobile Money, Vodafone Cash, Tigo Cash, or Airtel Money
GHLink
Cash at any Energy Bank, First Atlantic Bank or The Royal Bank nationwide
Get in Touch! We're happy to answer any questions you have about FundRaisingAfrica and crowdfunding in general.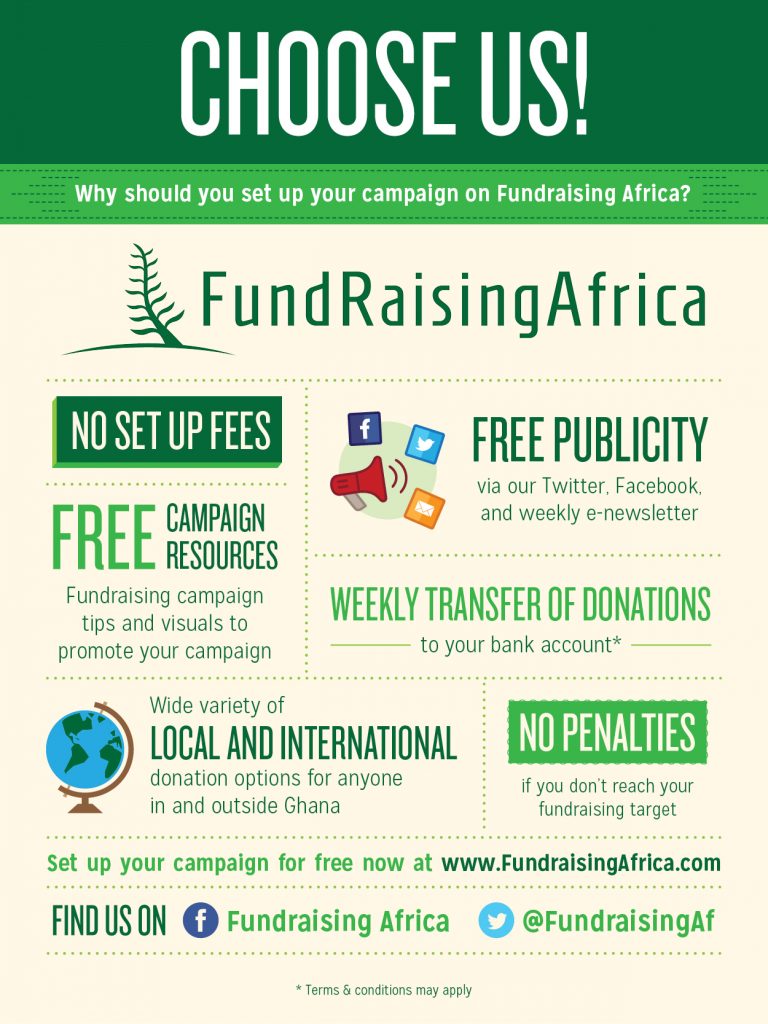 Email: info@fundraisingafrica.com
Twitter: FundraisingAf
Facebook: FundraisingAfrica