Only four phone manufacturers in the world have been able to sell over 100 million units in one calendar year — Apple, Samsung and Nokia. The fourth on the list, however, is usually not top of mind. The title of this post should have given it away by now — it's Huawei, the Chinese networking, telecommunications equipment and Services Company headquartered in Shenzhen, Guangdong! Huawei has been contending for top spot since they launched their Mate and P-series a couple of years ago, and the Chinese smartphone maker is not relenting. Some time in February, famed Leaker Evan Blass posted that the next Huawei flagship will feature not two but three primary cameras! I took this rumor with a pinch of salt so my jaw fell when it actually became reality. I've used the phone extensively these last days, exploring every nook and cranny. Let's jump straight into the review, shall we?
Spec Sheet
Android 8.1 Oreo
6.1-inch AMOLED display
Octa-core (4×2.4 GHz Cortex-A73 & 4×1.8 GHz Cortex-A53)
6GB RAM
64 / 128GB
Three primary cameras: 40MP, 20MP, 8MP
Secondary camera: 24MP
4,000 mAh battery
Unboxing
For a $1,100 smartphone, the P20 Pro came in a pretty basic and uninteresting box which contained, of course, the phone unit, USB Type-C earphones made by Huawei, a USB Type-C to Type-A cable, a USB Type-C to headphone jack, travel adapter and a clear phone case. The manual was in there too, in case people still read manuals. (I don't read manuals; I just use the device and complain on Twitter if I run into an issue).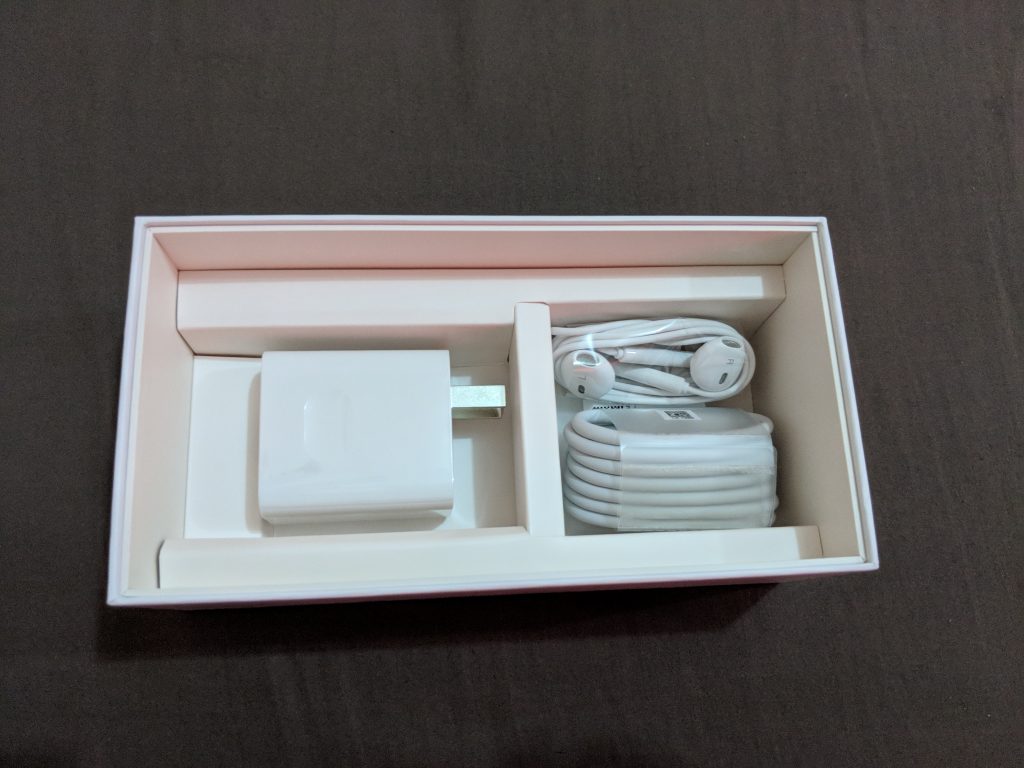 Design
I used the Galaxy Note 8 for months so I found the front of the P20 Pro quite boring. It has no contours and its display doesn't flow from edge to edge like many other flagships. Like many other 2018 flagships, the Huawei P20 Pro's front display is mainly screen (82% screen-to-body ratio). IT HAS A NOTCH. But honestly, it's not that bad. Compared to the iPhone X, the P20 Pro's notch is almost unnoticeable — the screen flows from bottom to top with a brief interruption to make room for the mic and camera. I can forgive the notch but not the chin! Instead of moving the fingerprint scanner to the back like all other OEMs have, Huawei decided to keep it there, making the already boring front design reek of ancient design (by ancient, I mean 2016).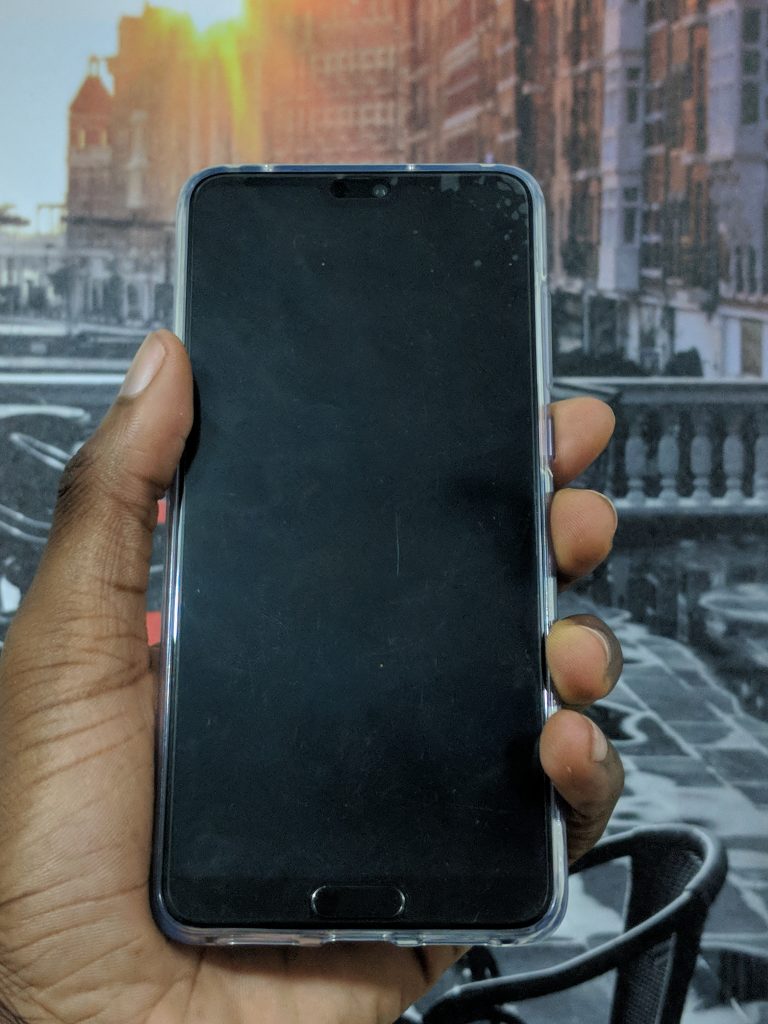 Boooring The back panel of the phone is where the magic is. The unit I have is Twilight and oh my, I love the color blend. It makes the phone extremely beautiful to look at and it sure does turn a lot of heads. I could not get a good shot of it for this review because it is very reflective. It makes no sense to hide it away in an opaque phone case. I would have bought a clear case like the RingKe Fusion I use for my Pixel 2 but Huawei was generous enough to include a clear phone case like I mentioned earlier. Apart from protecting it from scratches, the case also makes the phone more comfortable to grip. Also mentioned earlier, this phone has 3 primary cameras and they all line up vertically at the back. Two of the cameras protrude slightly but the phone case easily takes care of the situation.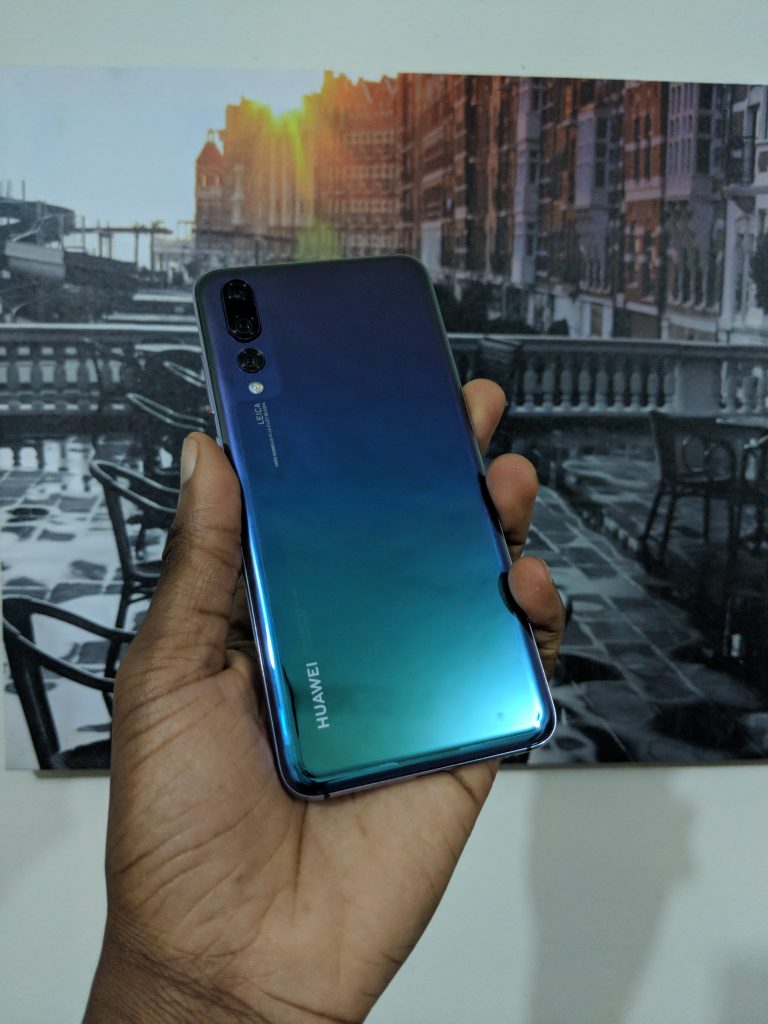 Color shifts as you change angles The left side of the phone houses the SIM cards and the volume rockers & power button are located on the right side. At the bottom is the USB Type-C port sitting in the middle of two speakers powered by Dolby Atmos. We will get to that in a bit. I almost forgot to mention the absence of a headphone jack. It's 2018, guys, use a pair of Bluetooth earphones.
Battery
Huawei claims the P20 Pro has enough juice to last you two days. This is extremely close to the truth. The P20 Pro easily took me two days with minimal usage. I jacked up my usage a bit by watching videos, tweeting, taking pictures and videos and all-day music. I still could not manage to drain this beast completely. As if this is not enough, there are various software tweaks available to help you conserve battery including reducing your screen resolution from 2240×1080 to 1493×720. There's no wireless charging but who cares when the battery lasts all day and gets from 0% to 60% within 30 minutes of charge?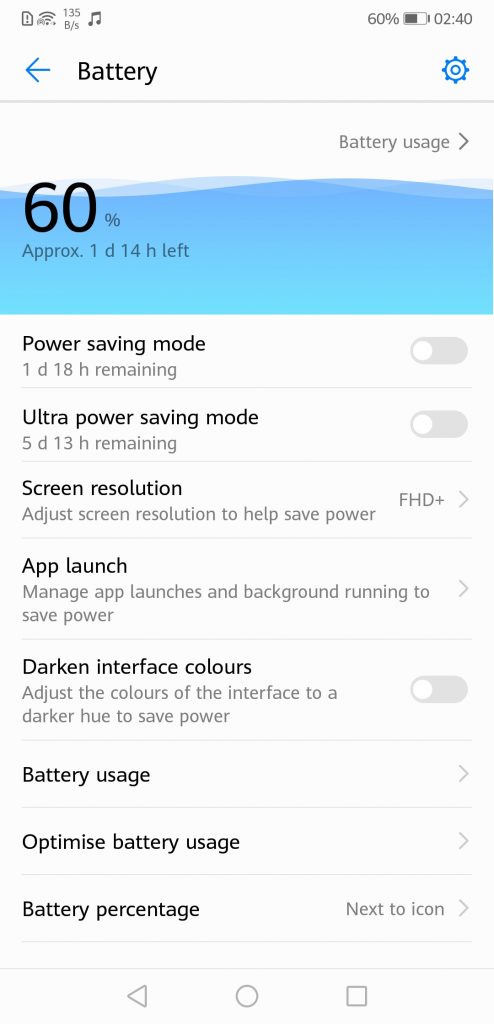 Software
EMUI, Huawei's version of Android's user interface, has seen tremendous improvements since its debut but it still looks like an iOS clone. It ships with a lot of clutter and bloatware. Even OEMs like Samsung notorious for packing their Galaxy devices with a tonne of crapware have repented. In terms of skins, Huawei has a long way to go. It is not as intuitive as Samsung's nor HTC's. The good thing is that most of the shitware is easily uninstallable. Even after setting the region to Europe and changing the device language to English, almost all of the stock Huawei apps have some menu items and sections still appearing in Chinese.
Although highly customizable and functional, EMUI is my least favorite OEM skin and I don't think I can ever get used to it. On customization, the P20 Pro is extremely customizable. You can change almost any and eveything on this device! Fancy HD+ instead of FHD+? Go ahead and change the screen resolution. Not a fan of the notch? All right, turn it off. You want a navigation bar? Turn it on. Want to restrict the apps your children have access to? Go ahead. While you are at it, set their bedtime too so they can't access their phone when they should be sleeping. The list goes on and on and on and on.
Notable Hardware
The fingerprint scanner on the P20 Pro is ridiculously fast. No, you don't get it. I mean it is ridiculously fast. It is faster than Barry Allen. I mean, it's so fast that I began to doubt whether it was doing any form of authentication at all. It makes the fingerprint scanner on my Pixel 2 feel like a tortoise. Face Unlock also works extremely well, even in low lit areas, unlike the Note8.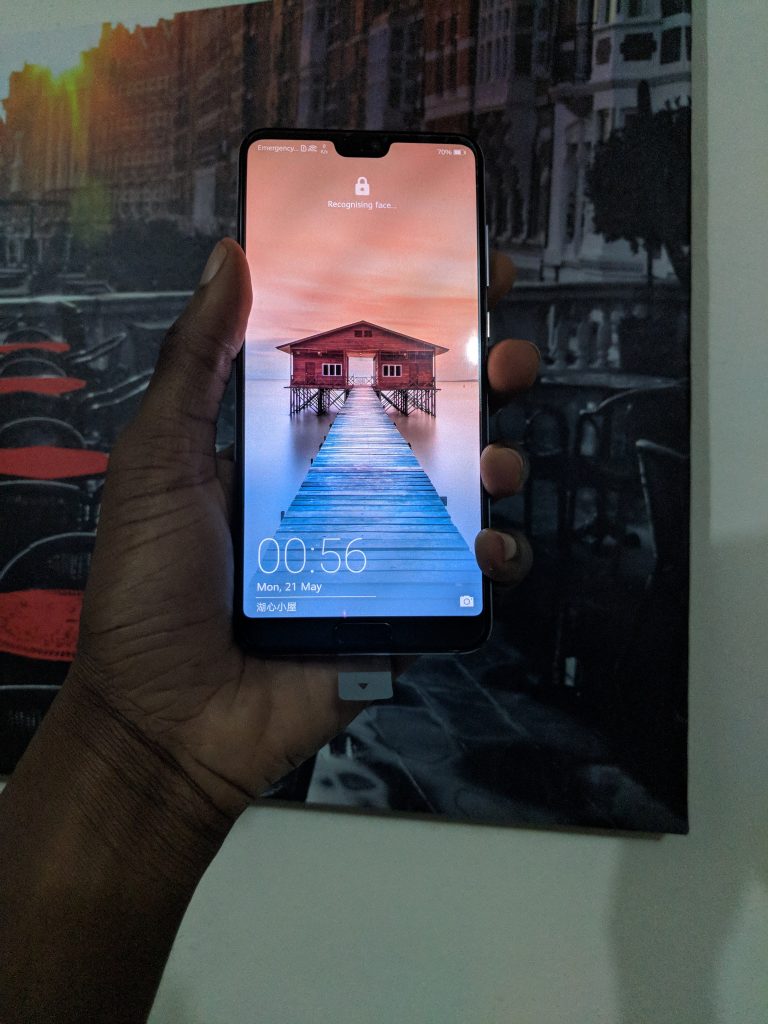 With the help of Dolby Atmos, the Huawei P20 Pro produces a rich stereo sound. Even when the speaker grille is slightly blocked by my finger, the sound is decent and still audible. This is something the Note8 cannot do. Surprisingly, the P20 Pro shipped with Bluetooth 4.2 and not 5.0. That's really a shame.
Camera
Yes, the camera. I feel like the camera deserves an entire post but I'll try my best to summarize. When DxoMark gave the P20 Pro's cameras a score of 109, 11 clear points from Google Pixel 2, I knew Huawei was serious about taking top spot. The software to support the four cameras on this device is extremely potent with various shooting modes. There is a Pro mode which basically hands you complete customization control over the cameras. You can shoot RAW with this phone. There is also a night mode which keeps the shutter on for a whooping four seconds to allow enough light to take good shots. Sorry, Samsung but the P20 Pro is the king of low light.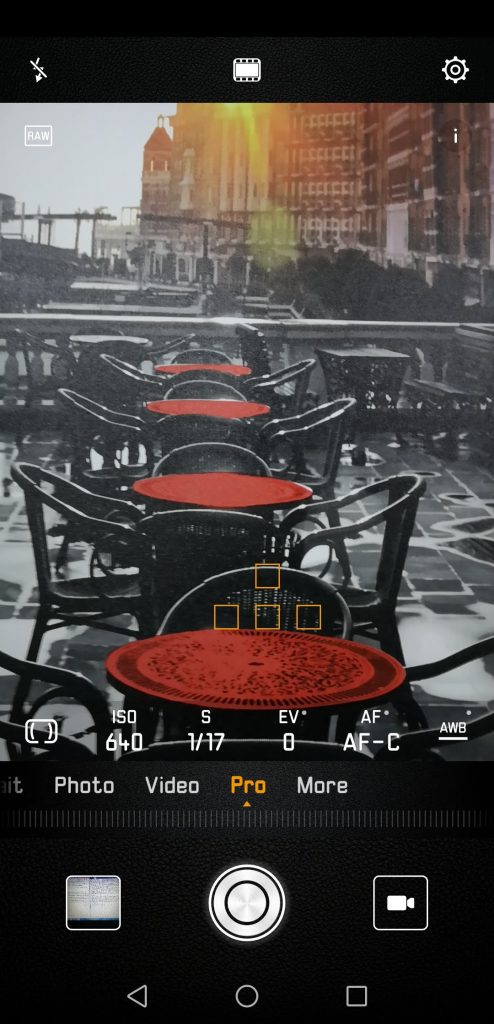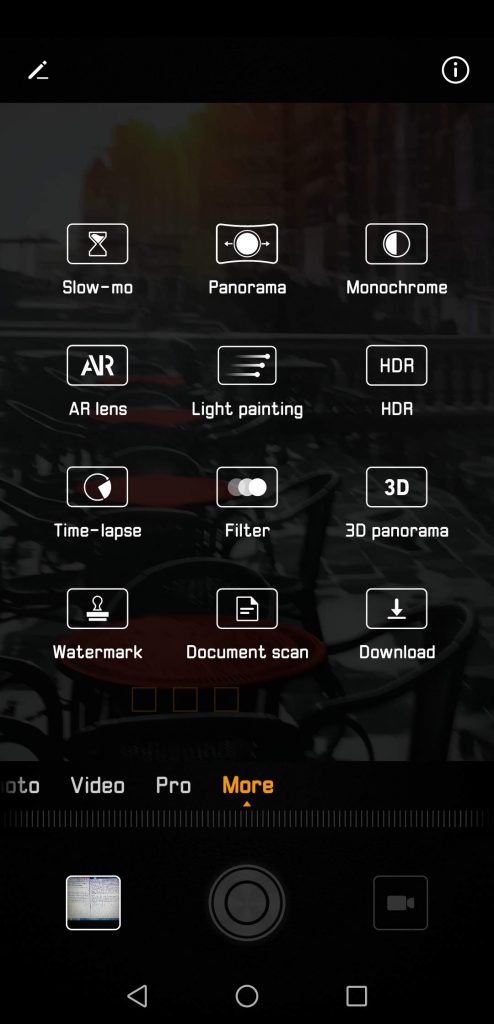 The P20 Pro's cameras performance is augmented by an AI (called Master AI) which suggests "filters" to be thrown on shots to enhance them. I tried taking pictures of the sky and it suggested that I use the "Blue Sky" filter. I took a picture of my laptop screen and Master AI automatically detected and boosted visibility of the text. I had my Pixel 2 with me during the time of the tests. Boy, my beloved Pixel 2 struggled to keep up.
Conclusion
The Huawei P20 Pro is like a cocktail of the best smart phones on the market. It takes the most coveted features from the various flagships out there and combines them to form an extremely formidable and customizable phone — the camera software processing from the Pixel 2, good sound from HTC BoomSound, even the notch from the iPhone X 😀 I see how the P20 Pro would have easily replaced my Pixel 2 as a daily driver, but the software on the phone is ugly and unintuitive so I personally wouldn't want to. It's the software that I interact with the most, and I love good design. If there's a Google Edition Huawei P20 Pro, sign me up!