If you are reading this, there is an 80% chance that you are doing so on an Android device, and so you have Andy Rubin to thank for. In case you didn't know, Andy co-founded Android with Nick Sears and Rich Miner (what a name, right?) before it was acquired by Google in 2005.
Yesterday, Essential, a company owned and run by Andy Rubin unveiled the Essential PH-1 phone, a nearly bezel-less smartphone with an edge-to-edge display. Andy states in a blog post that, the reason for his comeback into the smartphone industry was because he was getting frustrated with current trends in technology: less and less choice; more and more unnecessary features; an increasing sea of products that don't work with one another and devices that get outdated after only a year.
Rubin was on the sidelines learning from everyone's mistakes. Let's see if the father of Android does Android better than the step-daddy.

— covfefe. (@edudzi_) May 31, 2017
The Essential PH-1 looks very promising and if it is marketed well and catches on, the smartphone industry as we know it will witness a paradigm shift.
DESIGN
Even though the Essential phone's screen features an edge-to-edge display like the Galaxy S8 and to an extent, the LG G6, its design reminiscent of the Sharp Aqous 2 or Xiaomi Mi Mix rather. This is partly due to the blocky nature of the phone and its asymmetrical chin.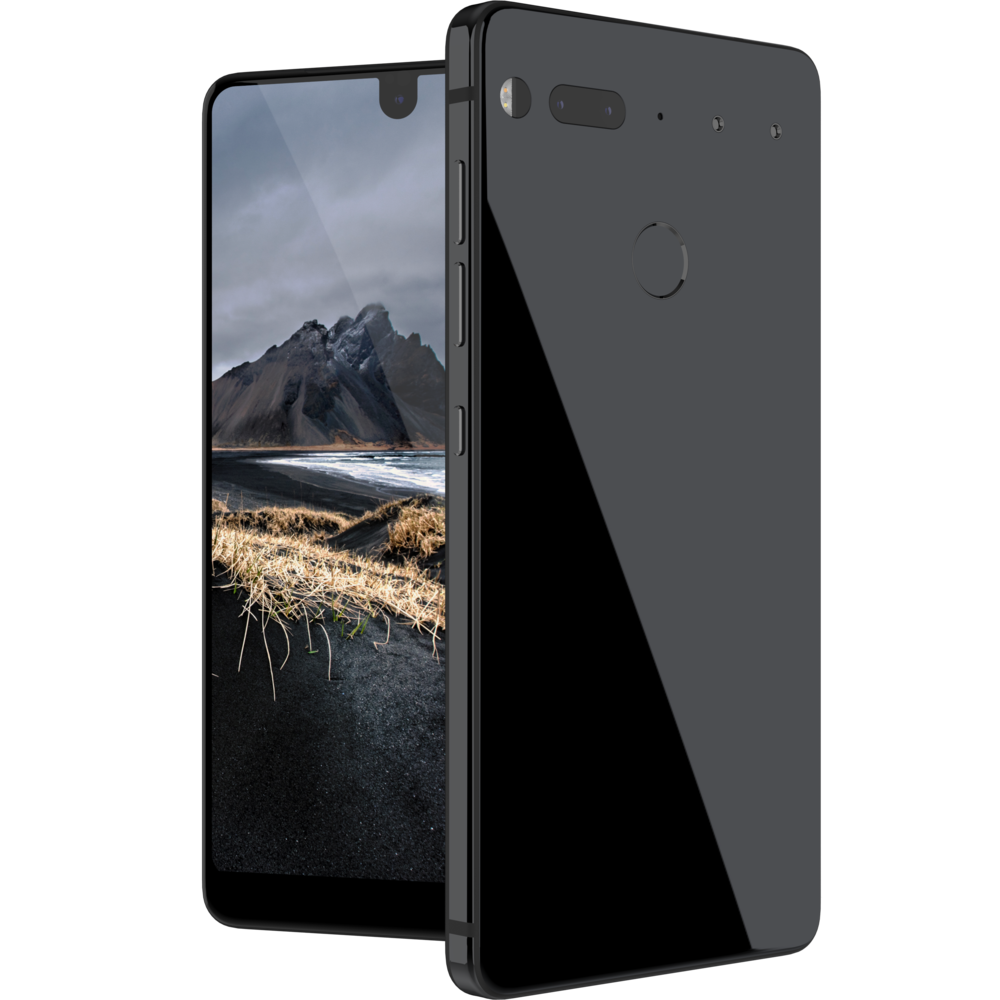 The Essential phone is also devoid of any logo or certification prints making it look like its some prototype from an R&D lab. This gives the phone an extremely clean and polished look. Also, the PH-1 is enclosed in a titanium & ceramic case, unlike other smartphone manufacturers who opt for aluminium. What's more, the screen is protected by Corning Gorilla Glass 5, so I guess its extremely safe to use this phone without a screen protector or a phone case. Unfortunately, the Essential phone does not come with a 3.5 mm headphone jack but there's a dongle that can allow your standard ear- or head-phones to plug into its USB Type-C connector.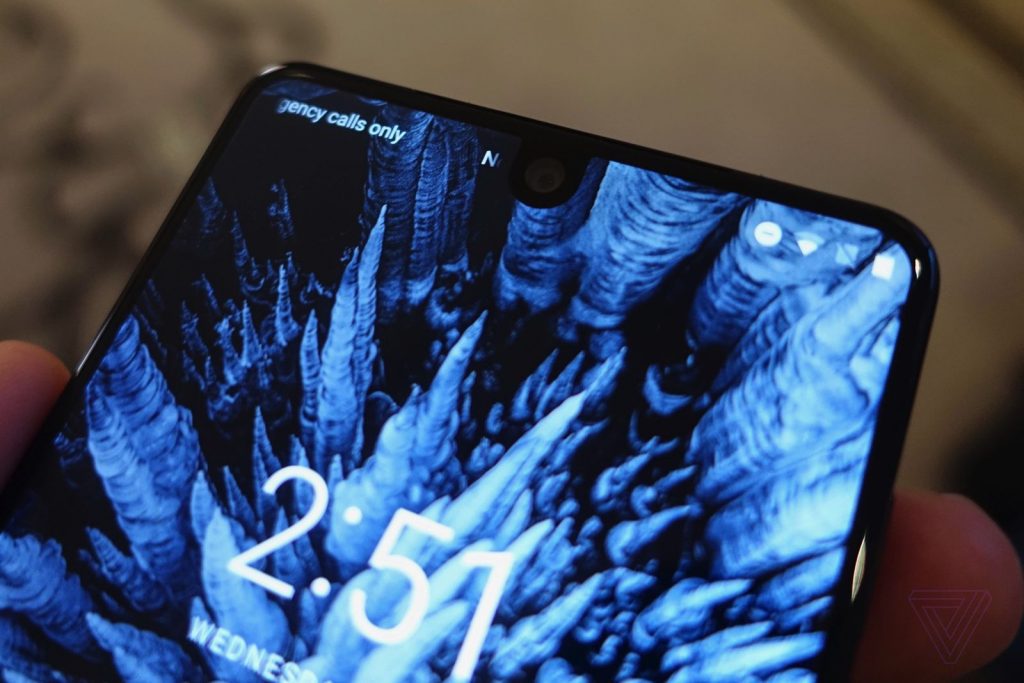 All the way at the top of the screen, there is a break in the bezel-less front screen display to make way for the camera. I have not used the phone yet, but I figure it may be extremely distracting.
SPECIFICATIONS
Like I mentioned earlier, this phone came ready to compete. With an extremely impressive spec sheet that easily matches 2017 flagships and a price slightly lower than devices with similar internals, the Essential will not be easily glossed over. Let's take a look at the spec sheet:
Titanium and Ceramic Frame
LTPS IPS LCD Capacitive Touchscreen
5.71″ Display
Corning Gorilla Glass 5
Qualcomm MSM8998 Snapdragon 835
Octa-core (4×2.45 GHz Kryo & 4×1.9 GHz Kryo)
128 GB Internal Storage Space
4 GB RAM
Dual 13 MP Primary Camera
8 MP Secondary Camera
USB Type-C Connector
3,040 mAh Battery
Bluetooth 5.0
AUDACITY
With regards to the Essential PH-1 accessories, the company has made some audacious moves that defy the common market trends and assumptions. We all witnessed the epic flop of modular LG G5 back in 2016. The market wasn't quite prepped to warmly receive modular components accompanying smartphones. Well, it seems the father of Android thinks we will embrace modular components once they are miniaturized and made more affordable.
There is a separate 360° camera, which happens to be the world's smallest that you can attach to your phone to capture every angle during a shoot. Also, with the Essential, you do not need to buy new dongles, chargers, and accessories every time your phone is upgraded — there is a magnetic connector with wireless data transfer that guarantees your accessories don't go obsolete. The charging dock and 360° camera connects to the phone through the magnetic connector.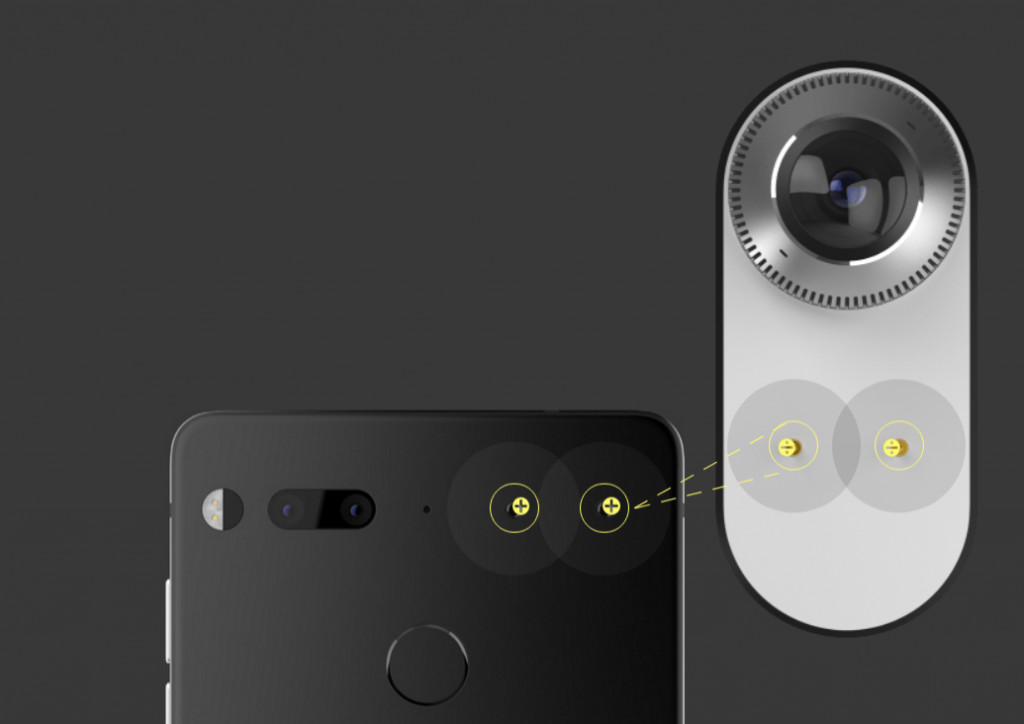 CONCLUSION
The device is promising and makes no room for compromise. Andy Rubin did a good job observing from the sidelines. It's evident in the design, build quality and internals of the Essential smartphone.
What we're yet to find out is if he took notes on production, supply chain and marketing. And if he did, does he have the resources to create and meet demand? What's the plan anyway? To go head-to-head with Samsung and the other giants, or to create and serve a niche? Will we see a revised One Plus marketing model?
We've got so many questions but either ways, it'll be interesting to see how they pull the marketing off and what the general reception of the PH-1 will be.
With inputs from Edudzi