If you have noticed, most of the URLs we share on our favourite social media platforms look extremely long and untidy. If you want to clean up URLs and make them shorter, then URL shortening is here to help.
URL shortening
Did you know that http://www.dailymail.co.uk/news/article-1158905/Microsoft-boss-Bill-Gates-bans-children-using-Apple-products–wife-admits-shed-like-iPhone.html and https://goo.gl/H0w2N lead to the same page? But consider how long the former address is. URL shortening is a very nifty technique that is used to make URLs significantly shorter and tidier before sharing on social media. In addition to this, it can help blogs and other content creators when it comes to tracking clicks and traffic to their website.
Some URL shortening services
There are over 300 websites that provide URL shortening services. However, you may need just about one or two. These are the shorteners I usually use:
Goo.gl
Goo.gl is Google's official URL shortener. In addition to a clean and simple interface, Goo.gl allows you to copy shortened URLs with just a click. Also, it keeps a list of all URLs you have shortened (you should have logged into your Google account before shortening) so it is easy to go back to them later. The number of times each shortened URL has been clicked is also displayed for analytic purposes.

TinyURL
TinyURL is the first URL shortening service I used. Even though its UI is not as glorious as Goo.gl's, it allows you to choose a custom alias for your shortened URL. This is particularly handy when you have to circulate URLs and want to remember the exact address. For example, you may have seen a cool Kindle Keyboard 3G from Amazon that you wanna buy. The link to that item is http://www.amazon.com/Kindle-Wireless-Reading-Display-Globally/dp/B003FSUDM4/ref=amb_link_353259562_2?pf_rd_m=ATVPDKIK X0DER&pf_rd_s=center-10&pf_rd_r=11EYKTN682A79T370AM3&pf_rd_t=201&pf_rd_p=1270985982&pf_rd_i=B002Y27P3M. This address can be simply shortened to http://tinyurl.com/KindleWireless. This way, it is short and easy to remember so you can just type it out from memory if you want to check if the item is still in stock.

Bit.ly
More than just a URL shortening service, Bit.ly is a link management platform that generates revenue by charging for access to aggregate data created as a result of many people using the shortened URLs. Bit.ly is extremely powerful and even has Enterprise applications. But don't worry, if all you want to do is shorten your URL and go, it has got you covered.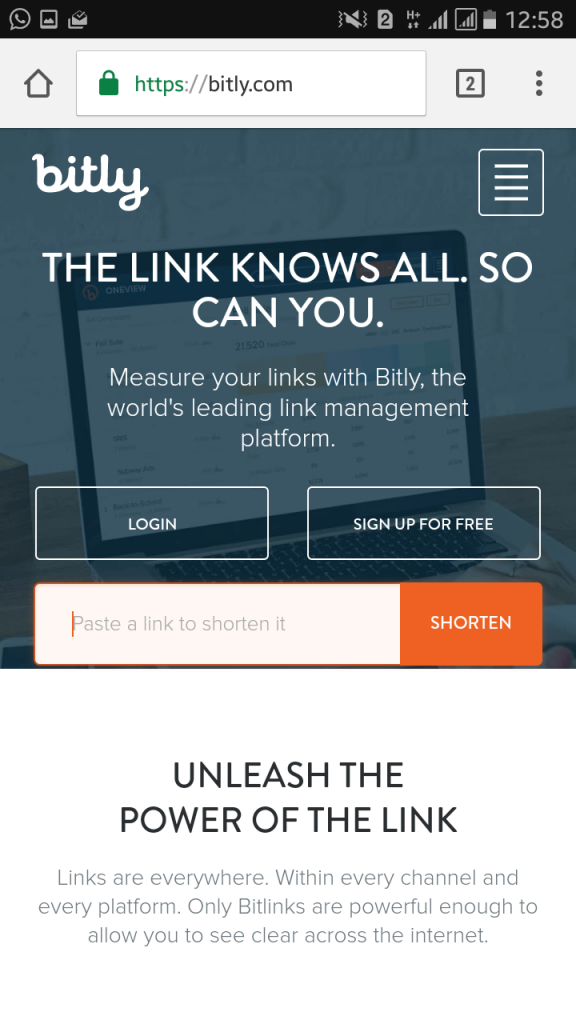 How do I shorten links?
First copy the loooong link you wanna shorten
Visit any URL shortening service provider (goo.gl, tinyurl.com, bit.ly or any other preferred service provider)
Paste the looooong link in the text field. Click on 'Shorten URL' or any variation of this message
Copy the now shortened URL and begin sharing to your favorite social media platform
Let us know in the Comments section if this post is helpful.
Featured image credit: Pixa Bay