Google Chrome
Browsers are not prevalent topics on most general internet conversations. On most days, we tend to ignore what our default browser is or should be; even with variations in operating systems and devices. Chrome has become the go-to browser for many users on the internet.
Here is some data showing the "browsers battle" through the decade: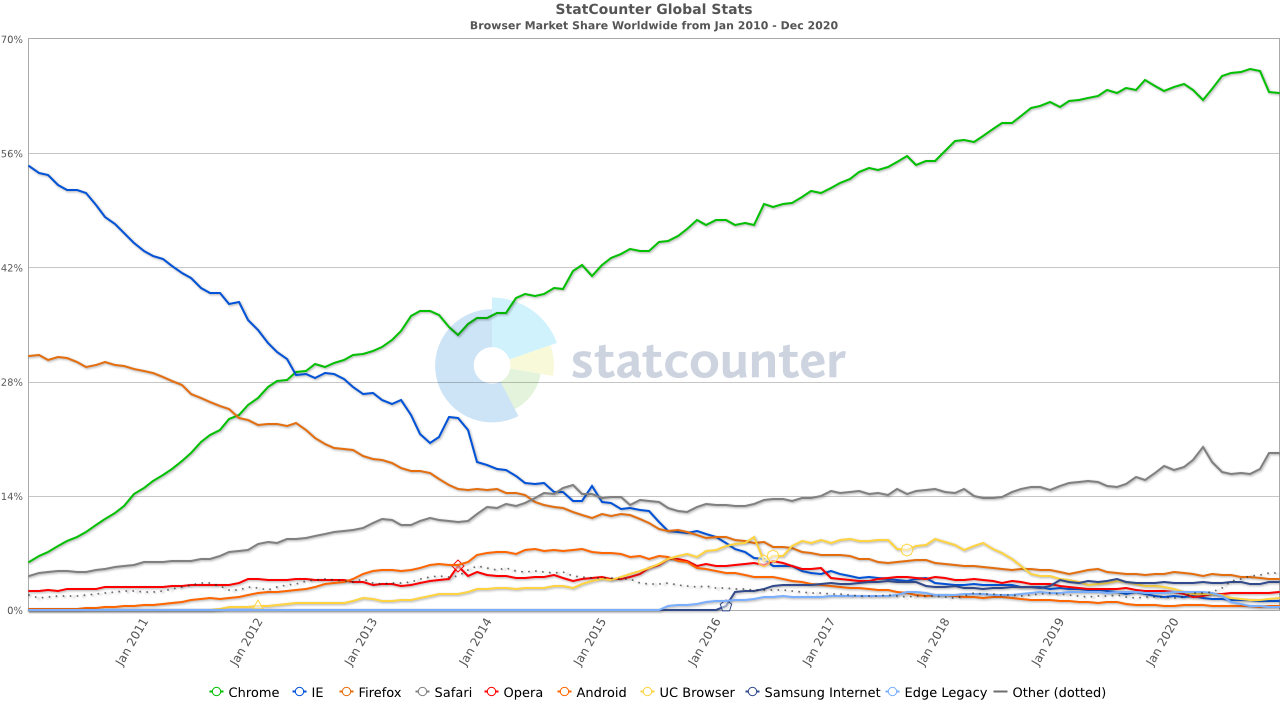 Source: StatCounter Global Stats – Browser Market Share
Underlining the interest of users, Google Chrome satisfies most of its users' needs even with its gluttonous appetite for RAM delicacy.
So the question is what are the alternatives? If I stop being a Google Chrome person what other options do I have?
Best Chrome Alternatives for 2021
Microsoft Edge
Brave
Firefox
Vivaldi
Microsoft Edge started off last year well with a new approach of what a browser should be: Edge built with the famous Chromium engine. Compared to Edge, Brave stands out a lot more with a unique design UI and a private browsing signature. When it comes to speed, the four alternatives go toe-to-toe however Firefox is largely known for its speed. For an excellent replacement for Google Chrome, there has to be a wow factor and this is where Vivaldi shines: a bucket of features and customisations.
Meet your "Sidekick"
From the list above, there is always something missing when it comes to beating the Chrome experience and that is where the SIDEKICK Browser steps up. I think it is essential to have "a sidekick browser" which could be either for work, for surfing the web or for general research. Over the course of 2020, we have become accustomed to using our browsers more, spending the majority of work time online. Having a browser that is designed for your workflow becomes a great addition to staying productive during harsh distracting moments.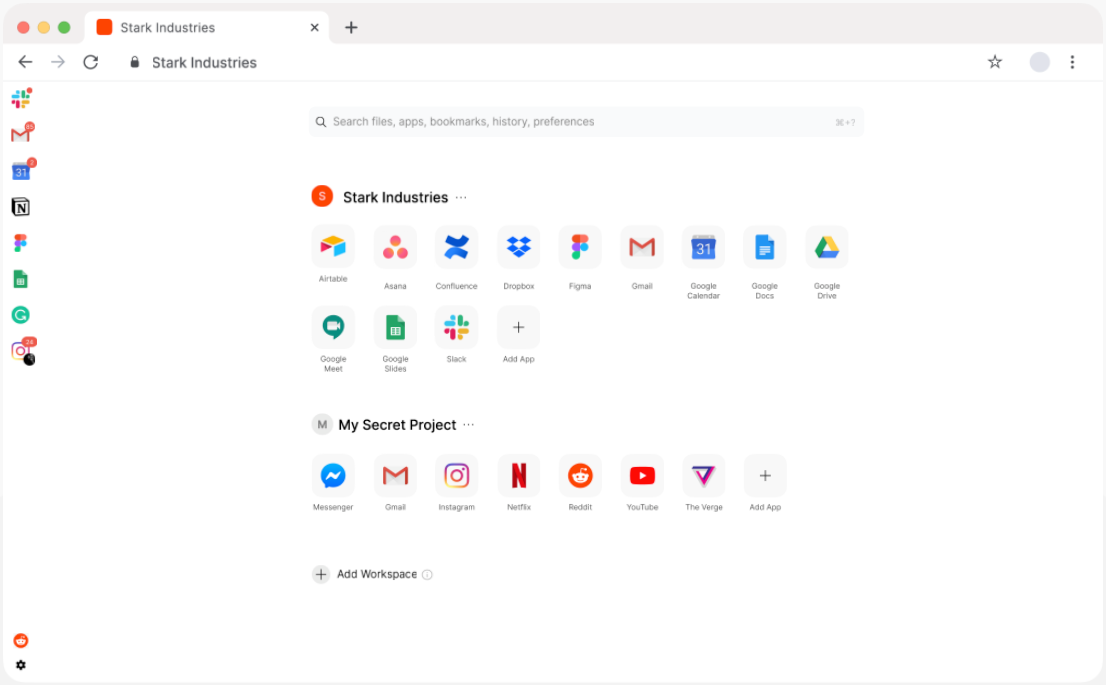 My Experience.
It has been a while since I had to pause to appreciate a piece of tech through usage. Here, this software by Dmitry Pushkarev takes on productivity and ease of use to new pivotal dimensions. The daily workflow requires googling, stack overflow and TABS(many tabs). After using Sidekick, I tend to like using my laptop more because of the browser. Here is why:
Applications
To compensate for the stress in multiple tabs, Sidekick browser helps minimize my clutter through applications. Every web app that is mostly used for work (Slack, Linkedin, Trello, Asana) can be found and customized on the left bar. The awesome addition is the search for files or folders for each application which enlightens the experience and saves so much time.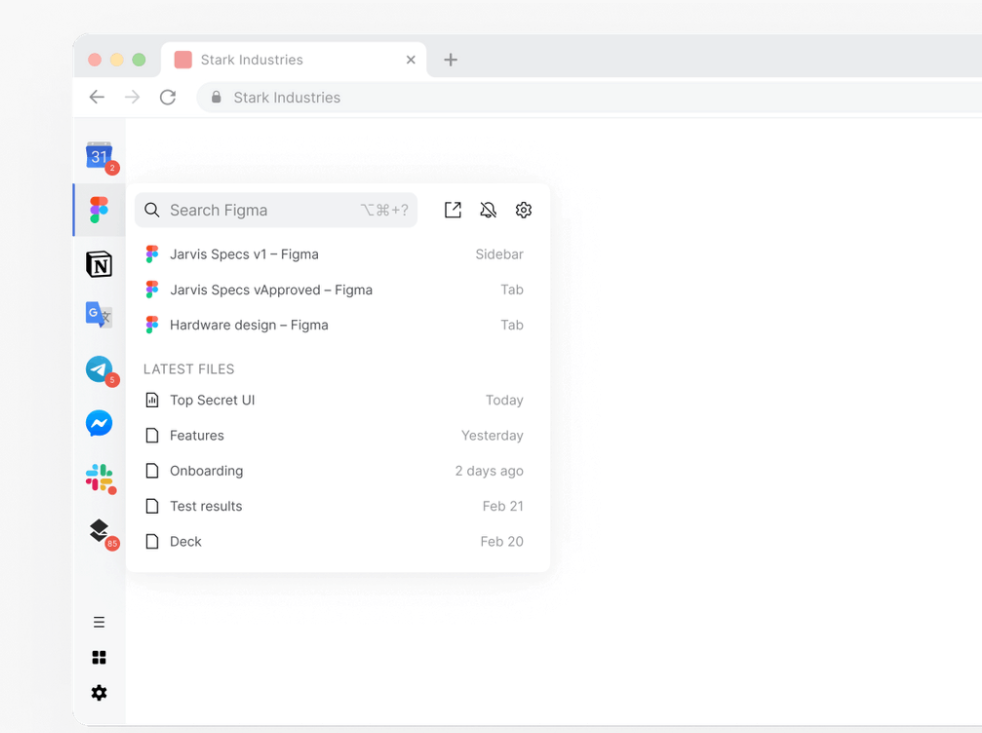 Keyboard shortcuts
Keyboard shortcuts are often underrated usually because it takes a while to get used to. I recently got surprised by the number of shortcuts I know for browser use or even Windows. Here, this browser somewhat changed my experience.
The shortcut I used most – ALT + Z for returning to the immediate previous tab you were working on and ALT + assigned number for application for jumping to your favourite used work web apps or websites.
Bookmarking
Bookmarking is so enjoyable because there's enough structure to help you go hard. My favourite thing immediately became continuity of web sessions after closing the browser. Immediately I click on sidekick, I get all my opened tabs in place and the fun part is that it doesn't suck that much RAM for all that work.
For more use cases and the daily workflow of users, visit meetsidekick to explore more.
Potential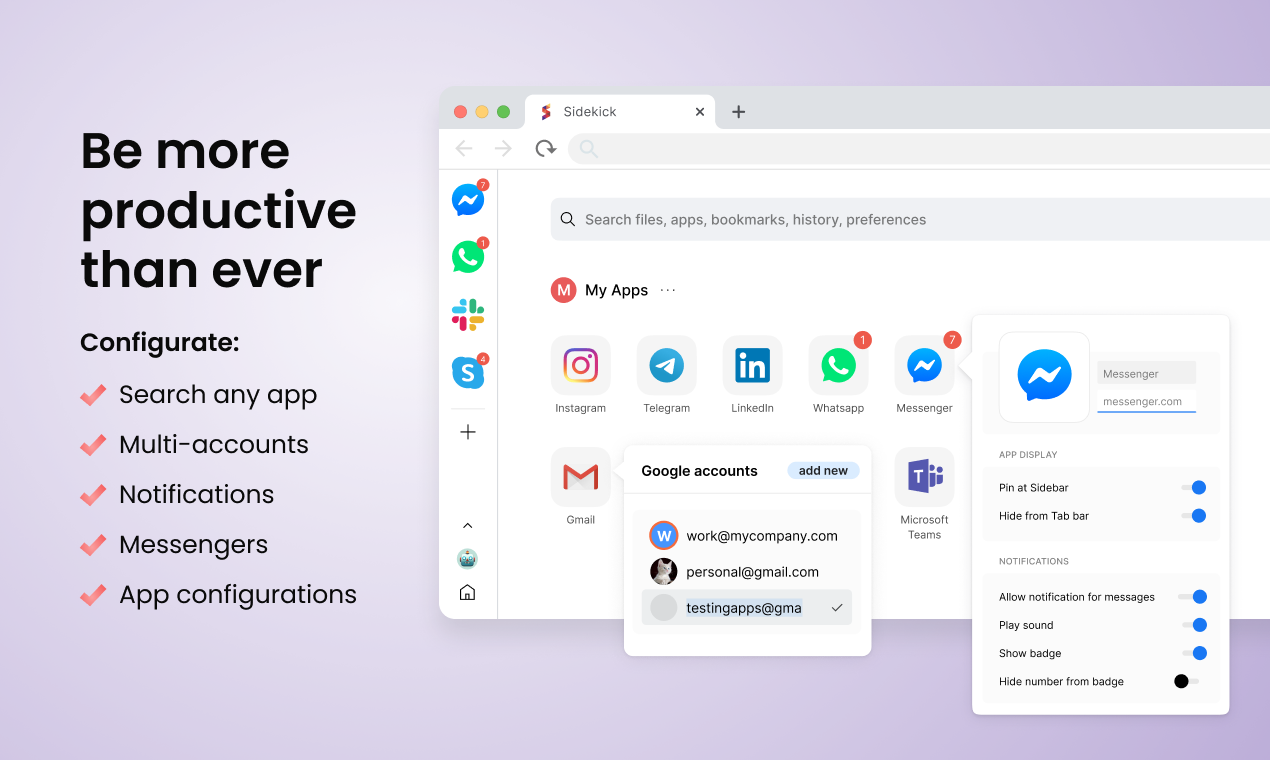 Designed to be the fastest online work experience, its UX is built around the most popular web apps, supports multiple logins, and uses workspaces to keep tab clutter under control.
You should definitely install, import your bookmarks, history and logins and enjoy an easy way to working using a browser.
For developers it may not meet Mozilla or Chrome standards, chrome is still the default browser for most developers for testing their applications and web development.
There are some bugs you might notice in setting up sidekick browser for the first time however, that was the only gripe I had from months of use.
Where do you land?
Focusing on usability and performance, I would recommend "Sidekick" not because of its novelty but for its stellar user experience. For me, as an avid browser user, these many features would go a long way into easing my day and lead to a faster and intentional workflow.
Where do you land as a user and what browser/browsers do you use? and do you have a favourite?
Thank you for reading. Be sure to share to friends or colleagues.

Afdtechtalk wishes you a Prosperous new year.