WhatsApp has been adding numerous features since it purchase by Mark Zuckerberg, we have compiled a list of changes so far.
The latest beta of WhatsApp on android now raises the ability to send 10 pictures in a batch to 30, that's a huge upgrade especially when you have to send all those selfies to bae.
Another significant addition was the ability to send gifs (an animated raster graphics file), now WhatsApp allow you to search for gifs on popular website giphy.com. Now with this integrated search, you no longer need the giphy app for Android to share gifs to your chats, using your GBoard or directly from WhatsApp, tap on the emoji icon > GIF.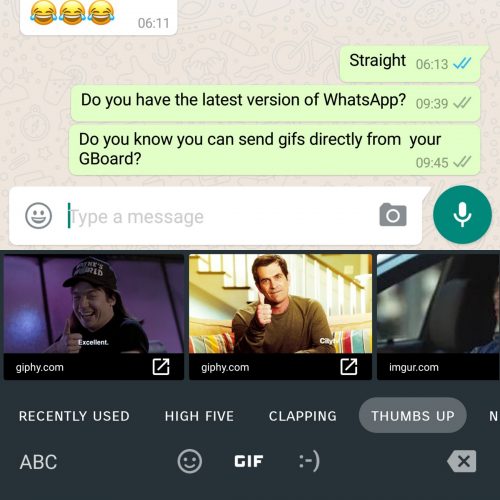 If you in interested in all these new features grab the link directly from WhatsApp servers or if you are beta tester on Playstore, you can update from the Playstore. FYI It is yet to hit the Playstore officially.
If you already have it let us know how it is going in the comments section