4G has been around since 2009. Ghana first tasted this goodness in 2014 through Surfline Communications, which happens to be the only telco in Ghana owned 100% by Ghanaians.
In this post, we will look at the two most established data only 4G service providers: Surfline and Busy, compare their coverage, bundle costs, speeds and other technical details.
Fast forward to 2017 and some more players have joined the game. Currently, we have other commercial 4G LTE providers like Blu, Busy and MTN. (We have simplified all you need to know about MTN Ghana's 4G LTE here).
In this post, we will look at the two most established data only 4G service providers: Surfline and Busy, compare their coverage, bundle costs, speeds and other technical details.
A bit of history
Busy
Busy is the new brand name for Busy Internet, which is the latest addition to the 4G service providers in Ghana. They have been around since 2001, providing internet café services to Ghanaians across five regions. They joined the 4G train in January 2016. Currently their 4G coverage covers Kasoa to Prampram.

Source: busy.com.gh/explore-4g/coverage-map/
Surfline
Surfline Communications Limited was established as far back as 2011, but it kept lurking around until it launched in August 2014. Their services currently cover Accra, Tema and Takoradi.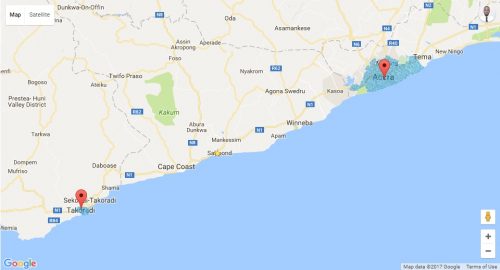 Source: www.surflinegh.com/en/support/network-and-coverage/
Concerning network coverage, there are definitely dark spots in certain areas, due to various effects on radio waves distribution and other environmental obstructions.
Connectivity
Busy
Busy operates on LTE band 40, in the 2300 MHz frequency range.
Surfline
Surfline works on LTE band 7, in the 2600 MHz frequency range.
Additional information
This means if you have any 4G enabled device which supports these bands, you can just walk into their shops and grab a sim to use on your device. You should note, however, that you can only enjoy data services and not voice calls. To know if your device is compatible with Busy 4G or Surfline 4G, visit GSMArena and search for your device, taking note of your model number. Under "4G bands" in the "Network" section, check to see if Surfline and Busy's bands are listed. Surfline's band will be displayed as "7(2600)" and Busy's as "40(2300)". If your phone or tablet model is the international model, you are good to go. We will learn more about LTE network bands in another post.
Devices
Busy
Busy currently offers two main products on their website: a MiFi and a 4G indoor router. The MiFi allows 14 WiFi enabled devices plus 1 USB tethered device (connected by a USB cable) for simultaneous internet use. Its battery can last up to 8 hours of internet connectivity on the move. It comes at a price of GH¢ 99 with 500MB "free" data. The 4G indoor router is sold for GH¢ 350 with 5GB data. Unlike the MiFi, the indoor router has no battery and therefore needs to be connected to a DC current, making it suitable for either home or office use.It simultaneously connects up to 32 devices and comes with 2 RJ45 Ethernet ports.
Surfline
Surfline has got a USB modem, wingle, MiFi's and a router. The USB modem goes for GH¢99 with 1GB data. The wingle, which is technically a USB modem with hotspot capabilities, retails for GH¢ 199 also with 1GB data and can connect 10 WiFi devices.
There are three different MiFi's offered by Surfline at GH¢ 199, GH¢ 249 and GH¢ 289 all with 1GB of data. Surfline's router also connects up to 32 devices with 4 SSID (Service Set Identifier) configurations i.e. WiFi name.
Bundles
Busy
Busy currently has no unlimited bundles. The closest you can get is Busy's Chill Pack, which gives you 80 GB for Weekend & Night browsing and 20 GB for daytime browsing on weekdays at GH¢ 600 for 30 days.
Busy offers lifestyle bundles; Jam gives you 10 GB for YouTube + 5 GB for general internet browsing at GH¢ 120, Suit offers 5 GB for social and 5 GB for general internet browsing at GH¢ 75 and Swag offers 3 GB for social and 1 GB for general internet browsing at GH¢ 30. All these bundles have a validity of 30 days.
Surfline
For heavy users who can browse all day/night, Surfline has got you unlimited data bundles, GH¢ 299 unlimited for 30 days and GH¢ 99 unlimited night for 30 days. For GH¢ 399, you can get a 100 GB bundle on Surfline.
The tables below show the base bundles for Busy and Surfline respectively: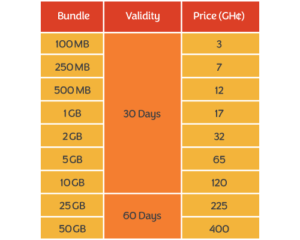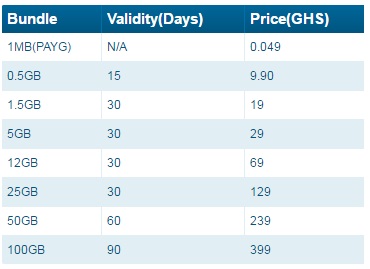 Speed
Theoretically, 4G LTE offers peak download of about 12.5 MB/s and peak upload of about 6.25 MB/s. This means you can enjoy an even smoother stream of high definition music and videos, you can connect with other gamers for competitions and enjoy the fun. Video calling and conferencing should be smoother than ever and all your connected devices on your mobile hotspot will enjoy a smooth internet speed.
We are currently still testing the speeds for both networks at various locations and will update this post with our findings, we must say we are really enjoying good speeds on these networks.
Conclusion
Enjoying a low latency and fast internet speed is the desire of every internet user, be it a causal browser, a streamer or a torrent god (we do not endorse illegal torrenting). In our part of the world where good internet is expensive and not widely spread, we hope this article will give us a fair knowledge about two of Ghana's top 4G LTE providers. In the meantime, we expect these two major players to expand their services to cover even more ground in our great country.
Check out the FAQs for Busy and Surfline, for further clarifications, let us know in the comment section or any of our social media platforms.
Featured image credit: Joy Senyo