Google's target of penetrating the emerging markets with relatively cheaper Android phones led to the birth of the Android One Project. Google has partnered with various equipment manufacturers to provide phones with decent specifications at affordable prices. Today, we review the Infinix Note 2, a device under the Project.
Specifications
Here's a list of the most relatable specs:
Android 5.1 Lollipop
6" IPS Display
3 GHz Octa Core CPU
1 GB RAM
16 GB Internal Storage
Expandable storage (up to 32 GB)
13 MP Rear Camera
2 MP Front-facing Camera
Dual Micro SIM
4,040 mAh Battery
Design
I'm a big fan of the simplistic look of the Infinix Note 2. The form factor is easy to grip and use. The two color variants in stock at the time of purchase were Anthracite Grey and Luxurious Gold (Really? Luxurious?). I went for the Anthracite Grey.
The device has its volume and power buttons on the right edge of the phone and they are comfortably within reach. Just like Motorola's Nexus 6, Infinix Note 2's power button is roughed to differentiate it from the volume buttons. This prevented me from accidentally turning my screen off when increasing or decreasing volume.
The absence of physical navigation buttons on the phone makes the design refreshing. It employs the use of on-screen navigation buttons for "Multitasking", "Home" and "Back" actions.
The back cover of the phone has a subtle criss-cross pattern which prevents it from being slippery by improving grip. It has a removable back that reveals two micro sim card slots, a microSD card slot and a 4,040 mAh non-removable battery. The standard 3.5 mm headphone jack sits at the top of the screen, with the backwards facing microUSB connector sitting at the bottom.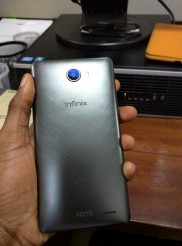 The phone's speaker is at the back of the phone. The demerit is that you always have to turn the phone upside down when listening to music without earphones. This was not much of a problem for me because I rely heavily on my earphones. No matter how skinny your fingers are, using the phone in landscape mode will cover a portion of the lone speaker grille.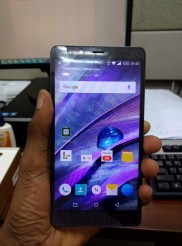 Performance
The Infinix Note 2 is decently fast. I wouldn't be quick to say it is snappy. Apps take a few moments to load but when they do, there's little to no lag during usage. I would favour 2 GB of RAM and four cores instead because even with eight cores, the Infinix Note 2's meagre 1 GB RAM makes the phone struggle when handling multiple apps that use Android resources heavily. Since Android's support of multithreading is limited, most of the phone's cores sit idle on a typical day.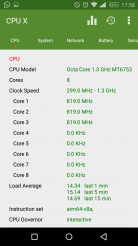 Battery
There are absolutely no compromises in Infinix Note 2's battery department. No, not one. I totally love the Infinix Note 2's battery. I could talk about the battery all day and not run out of juice doing so. It's hands down the best in any smartphone I have ever used. Trust me, I've used a lot! After almost five hours of heavy screen usage (phone calls, videos, games, music, browsing, reading), I had 50% left! Infinix intelligently controls how often apps can wake the phone in standby mode so the phone barely drained when I made it sit idle.
There are absolutely no compromises in Infinix Note 2's battery department. No, not one. I totally love the Infinix Note 2's battery.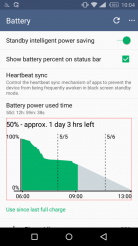 With its Dual IC-Charge design, the Infinix Note 2's battery literally moves from 0 to a 100 real quick. Charging is insanely fast when using the travel adapter it shipped with. In about 25 minutes, my unit charged from 54% to 100%! Major props to Infinix for this.
Camera
I will describe the 13.3 MP rear camera as a hit and miss. Maybe Infinix will throw a software update that'll enhance the camera software processing capability later. I love how easy it is to focus and how fast shots are taken.
In medium to low light, Infinix Note 2's  camera's performance is substandard. Some of the photos I took were dull, grainy and washed out. It even gets worse when you zoom out. The quality of shots in high light is very decent although it doesn't match photos I've taken with devices that have 12 MP cameras.
Infinix throws a software image processing feature called the 'Beauty Face' that attempts to make you look more beautiful than you do when using the front-facing camera. I've attached a sample for you to judge yourself.
Software
In terms of functionality, the software on the Infinix Note 2 is decent. In terms of looks, however, it could use some improvements.
Infinix's "X UI" adopts a flat app icon scheme which looks consistent and fairly good if you are only going to use pre-installed. But of course no one does that so the app drawer ends up looking untidy. This isn't solely the fault of Infinix — Google isn't really enforcing their Design Guidelines. Heck, they even break some of their rules themselves!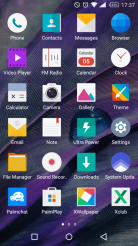 As expected of device makers, the Note 2 shipped with a bucket load of bloatware. The good thing is that most of these are uninstallable.
The Quick Settings panel is much more functional than Stock Android's. It packs a bunch of useful shortcuts making them more accessible.
Ultra Power Saving Mode is particularly useful when you're running low on power. When turned on, the only apps you can access are Phone, Messages, Note, Calculator, Sound Recorder and Clock. All other functions (like taking screenshots) are completely disabled. It is worth noting that this list is not customizable.
'HotKnot' is supposed to act like some sort of NFC but I couldn't get it to beam files to both my Nexus 6 and 7. If I do get another Infinix Note 2 unit, I will give it another shot and report back on it.
Summary
That's pretty much it for the Infinix Note 2. If you're looking for a phone with decent specs and an attractive price point (GHS 500), you will have no complains about Note 2's performance. Like I said earlier, it has a great battery and a simplistic design.
Speakers, software and screen resolution are the phones greatest compromises. The speaker is not very loud and its placement makes it easy to block with your finger. The software looks untidy and may never be updated to Android 6.0 Marshmallow. Let's not forget Google is readying Android N for a Q3 2016 release. The screen resolution is also not very crisp but I guess it is what makes the humongous 4,040 mAh battery even more impressive.
Featured image: mobilesgate.com