Are you tired of the slow browser downloading, fragmented downloads, incomplete and non-resumable downloads on your Android device? Are you looking for an IDM-like download manager for Android? Well, the best solution is the Advanced Download Manager.
ADM uses multithreading (up to nine parts) and its smart algorithm to increase download speed noticeably faster than Android's built-in downloader.
Coming in with a 4.4 rating, ADM aesthetically and functionally falls within the good app category. (Check out our tips to downloading good apps from Play Store). ADM is undoubtedly one of the powerful download manager apps made for the Android platform. It is able to accelerate downloads by splitting files into multiple sections and downloading them simultaneously, resuming broken downloads so you don't have to start downloading from the beginning, hence speeding up the whole process.  
Here's why you might want to replace your default Android downloader with Advanced Download Manager:
Interface
ADM dons a highly customizable light material design which makes it appealing to the eyes. Swiping from left brings a menu with Quick Options. From there you can sort downloads by order, size and name, filter by file types and status. You can also tweak the number of threads and speed for a download. From the download list, you can easily open completed files, you will see information about downloading: speed, size, time, you can also easily pause, resume, restart for download. ADM has got an extended notifications feature, with an icon with progress and speed in notification panel, to start/stop all downloads. Completion of download is notified by sound and/or vibration.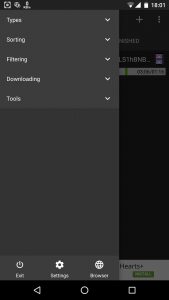 Powerful Downloader for Android
ADM uses multithreading (up to nine parts) and its smart algorithm to increase download speed noticeably faster than Android's built-in downloader. Unlike the traditional Android downloader which downloads a file sequentially, ADM breaks the file into fragments and downloads the portion that is readily available first. After all the pieces have landed on your phone, it then merges them into one complete download! Not only that but you can choose to download through WiFi only to prevent incurring significant charges while using mobile data. ADM is able to intercept links from Android browsers and the Clipboard (after granting it permission, of course). Furthermore, if the data connection is lost during download, the program pause and automatically resume when data connection is restored. You can also add URL links in ADM by tapping a link in your browser and completing action using ADM editor or sharing via ADM editor. There is also an option to schedule the start of a download for a future time. The downside with ADM, however, is that you are limited to only three simultaneous downloads probably because four or more will slow the entire download list down.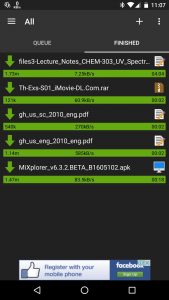 Built-in ADM Browser
ADM has a browser built into its skinny 3.25 MB app size that supports multiple tabs. It can track your browsing history and allows you to place bookmarks. In addition, it can intercept MP3 (MPEG-1 Audio Layer-3) and MP4 (MPEG-4 Part 14) videos from websites. There's even an option to spoof the user agent of the browser when some sites want you to download from specific browsers or non-mobile browsers. If a download link isn't a direct link, ADM automatically opens it browser to get the freshest link.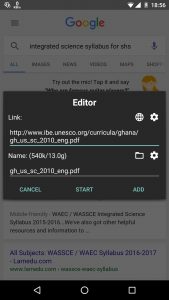 Head over to the Play Store to download the app.